There could soon be a lot more venture capital flowing into New Mexico companies thanks to recent commitments from the State Investment Council. An Albuquerque firm wants to get in on that action through a new fund — what could be its largest to date by more than four times.
Tramway Ventures, a life sciences-focused VC firm based in Albuquerque, is targeting $40 million for its third fund, called Tramway Ventures III LP. That amount, once raised, would be $31 million more than the VC's second fund, which was $9 million, and $34 million more than its first, which was $6 million.
New Mexico's State Investment Council (SIC) — the state's sovereign wealth fund that manages over $30 billion in permanent and governmental funds — committed $20 million toward Tramway's third fund. Voting members of the council unanimously approved the commitment during its monthly meeting on Aug. 29.
It's the second time the SIC, which pumps severance tax money into New Mexico-based companies or funds with the promise of economic benefit for the state, has committed money to Tramway Ventures. The first came in 2020 as part of the council's emerging manager program for Tramway's second fund, said Waneta Tuttle, the firm's founder and managing partner.
Tuttle said the focus of Tramway's third fund will be "generally the same" as previous funds, with an emphasis on med-tech, biotech and health-tech companies. Tramway hopes to invest in 12 to 15 companies out of the third fund, she said, depending on how much money it ends up bringing in.
A larger fund means more potential for what Tuttle called "follow-on investments." She said Tramway will target $500,000 to $1 million for initial investments and then reserve money for investments in later rounds of those companies.
Having so much more capital to deploy also means more work for the firm, Tuttle added. So, to help manage its larger third fund, Tramway brought on a pair of new managing partners — Katie Rice and Chris Japp.
Rice had worked with Tramway previously in a part-time capacity, but Tuttle said she's moved into a full-time role as managing partner. Japp, however, is brand new to the firm.
"The larger fund gives us a lot more flexibility both to work with more companies, more startups, as well as following them throughout their progression," Japp told Albuquerque Business First. "Our hope obviously is to pick the companies that'll be winners, but having a larger fund will enable us to invest in them at various stages throughout their progression."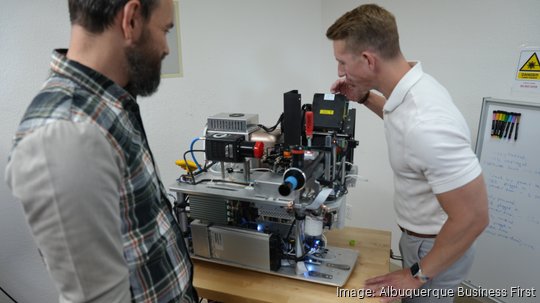 Japp, who said he's been in New Mexico for about two years, comes to Tramway with over three decades of experience at large life science companies, including GE Healthcare and Boston Scientific. Tramway marks his first step into working in venture capital.
"We consider the eventual exit of some of these companies, and in most cases, it will be an acquisition by a larger corporate," Japp said. "Because I've been on the side and have partnered and acquired many of these small startup companies, I have a pretty good sense of what the corporate companies are after and what they're going to be looking for as they pursue finding one of these smaller companies to help them with innovation."
The pair — Rice and Japp — bring "complementary backgrounds" to Tramway, Tuttle said. Rice co-founded the Albuquerque company BabyPage in 2015 and helped launch Ski Lift Pitch, an annual pitch competition held at the Taos Ski Valley.
Alongside Tuttle, Rice and Japp as managing partners, Tramway also has Joseph Juang as its principal, who Tuttle said leads the firm's due diligence process, and three investment advisors. Its current portfolio of companies includes BennuBio, Armonica Technologies Inc. and Circular Genomics, all of which are based in Albuquerque.
In terms of the geographic focus for its third fund, Tuttle said Tramway will have a target of investing 90% of its capital in New Mexico.
"But we'll also dip our toe in the water regionally, because we think there's a great opportunity to build from New Mexico great interactions with the region," she added.
The firm plans to find companies with technologies that can be "transformative" in the markets they're addressing, Tuttle said. Tramway looks at the team behind those companies and their potential market competitors as other factors in whether it decides to invest money or not, she added.
And, Tuttle said Tramway always wants co-investors.
"We need to have other smart people around the table investing," she said. "If we go to the next rounds for these companies, it's important to have investors with us who can also join the next round of investment."
In addition to its $20 million commitment to Tramway's third fund, the State Investment Council also approved commitments to two out-of-state funds during its August meeting. SIC committed $40 million to Antler U.S. Fund II, managed by Antler, a Singapore-based VC firm; it also committed $10 million to Thayer Ventures IV LP, the fourth fund of San Francisco-based VC Thayer Ventures.
Thayer, in July, invested $3 million in Albuquerque-based data firm RS21.